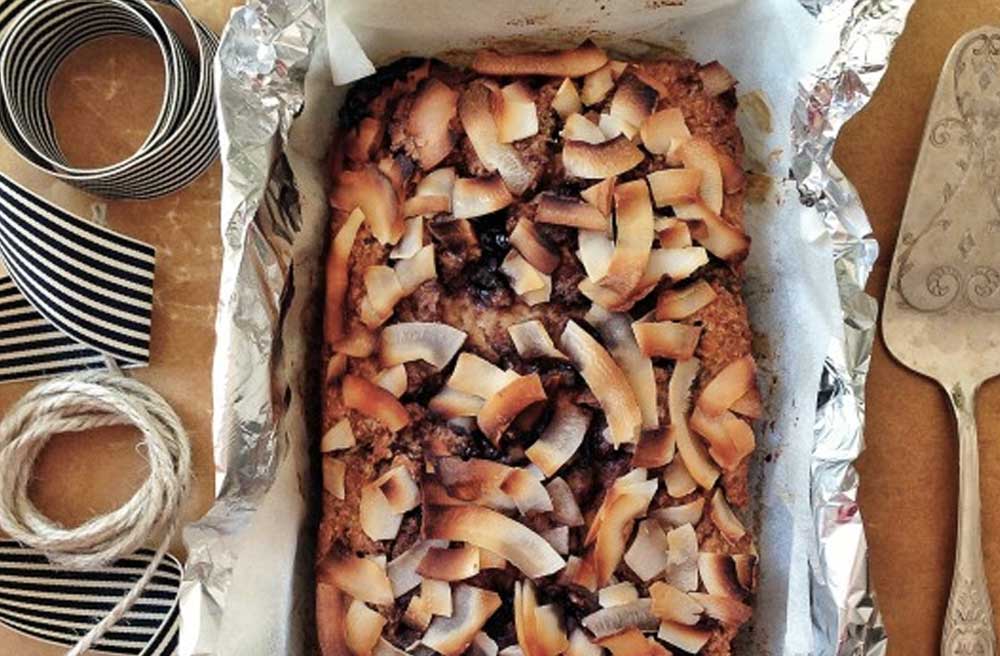 Jump to recipe
The perfect recipe for when you have a friend or relatives visit you. We highly recommend Coconut Essence Organic Cold Pressed Coconut Oil and Coconut Chips. Now available online with free delivery Australia wide.
Banana Coconut & Raw Chocolate Swirl Cake
Made with Coconut Essence Coconut Oil and Original Coconut Chips from coconutessence.com.au

Ingredients
Chocolate Swirl Cake
2 cups of almond meal
3 very ripe bananas – mashed
2 tablespoons of vanilla protein powder
4 eggs beaten
1/2 cup of coconut essence organic coconut oil
1/4 cup chia seeds
4 tablespoons of rice malt syrup or maple syrup
1 teaspoon of vanilla bean paste
1 teaspoon of cinnamon
1 teaspoon of baking powder
1 teaspoon of lemon juice
Topping
1/2 cup of the raw chocolate mixture
1 packet of Coconut Essence Original Coconut Chips
Instructions
Grease and line a large loaf tin and preheat your oven to 180 degrees.
Mix together all the wet ingredients (coconut oil, mashed bananas, sweetener, eggs)
once combined mix into dry ingredients and fold until combined.
Add the baking powder and on top of it pour the lemon juice to activate.
fold it in gently to the mixture as it bubbles and foams.
Pour mixture into cake pan then
Swirl in the Cocotella to the top of the cake
Top with the Coconut Chips.
Top the and place into the oven for about 30-40 minutes until the cake springs back when touched in the center and sides – if the coconut chips start to brown cover with foil and keep cooking for another five minutes.